We Drive. Your Business Saves Money, Time, and Inconvenience!
With a long history of success in the Hamilton taxi industry and thousands of satisfied customers daily, Hamilton Cab is your premium choice for corporate taxi transportation in Hamilton.
Corporate Taxi Accounts are beneficial for deliveries, personal taxi cab transport within Hamilton, transportation to and from the airport and so much more.
Our expert Hamilton Cab taxi drivers offer a great alternative to a Hamilton limousine or an impersonal courier company by providing friendly, secure and affordable transportation and delivery services.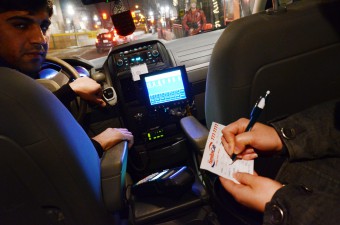 Why Choose A Hamilton Cab Corporate Account?
Priority
Your Hamilton Cab Corporate Account is a high priority to us and all of your information is recorded and saved for future reference. Making it quick and easy every time you call us.
Our dispatch and marketing department work with our corporate partners to meet and exceed all of the special needs of your business.
Security
Both the driver and passenger sign the receipt voucher to secure every transaction that is made in our cabs.
Our accounting staff will then cross reference each and every voucher to ensure there are no charging discrepancies.
You will receive detailed monthly billing including the original vouchers for your records.
Convenience
Guaranteed Service
Easy to Read Reports
Flat Rates for Out-of-town Trips
Convenient Online or Phone Booking Methods
No Petty Cash
No Expense Reports
No Waiting During Peak Times
For more information or to set up your Corporate Account with Hamilton Cab today:
Contact Nancy at 905-522-0748 x2232 or nancy@hamiltoncab.com
Administrative Office: 905-522- 0748
Dispatch Office: 905-777-7777
Fax: 905-528-8637
Toll Free: 1-877-525-2500