Fare and Legal Rates
Hamilton Cab charges a standard taxi metered rate, established by the City of Hamilton, of $3.90 for the first 71.4 meters, 13 cents for each additional 72.1 meters, and 13 cents for waiting time while under engagement for each 14 seconds. A 10% discount is offered to seniors on each full dollar spent.
At Hamilton Cab we do not charge extra for our taxi van service. Why should we? We have over 100 taxi vans in our fleet!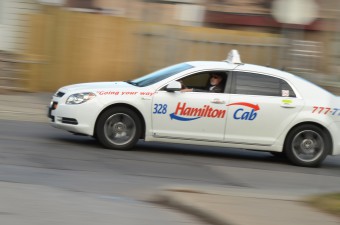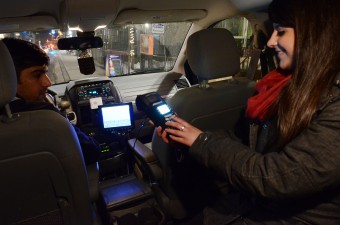 It's Always a Free Call
No need to look for change anymore! Just dial our toll free number 1-877-525-2500 from any payphone in Hamilton or anywhere else, it's always a free call!
Cab Fare Calculator
If you know your starting and ending location you can view your estimated cab fare cost by using our Fare Estimator. Click here to see your next great rate!
Flat Rates
Hamilton Cab is pleased to offer discounted rates for some of our standard trips.
Hamilton Downtown to Toronto Airport: $95*
Hamilton Downtown to Hamilton Airport: $35
*Applies to either a Hamilton Cab car or van, which can take 6 passengers. The same rate applies for 1 person as it does for 6 people.
From Hamilton Airport
If you're getting picked up from the Hamilton Airport, why book a Hamilton limousine or a shuttle service? Our Hamilton taxi drivers can transport you and your belongings safely, affordably, and in style. Please see our list below for our great cab fare prices.
| Destination | Distance (km) | Fare |
| --- | --- | --- |
| Hamilton (Downtown) | 19 | $37.00 |
| Hamilton (Go Stn.) | 15 | $32.00 |
| Hamilton (McMaster) | 20 | $38.00 |
| Hamilton (Sheraton) | 20 | $37.00 |
| Hamilton (Courtyard) | 9 | $20.00 |
| Hamilton (Visitors Inn) | 20 | $38.00 |
| Hamilton (Holiday Inn) | 24 | $46.00 |
| Hamilton (Days Inn) | 14 | $32.00 |
| Hamilton (Carmen"s C) | 16 | $31.00 |
| Aldershot (Go Stn.) | 27 | $48.00 |
| Beamsville | 54 | $81.00 |
| Binbrook | 18 | $36.00 |
| Brampton | 87 | $130.00 |
| Brantford | 33 | $50.00 |
| Buffalo | 118 | $177.00 |
| Buffalo Airport | 127 | $190.00 |
| Burlington – Go Station @ Brant | 30 | $52.00 |
| Burlington – Go Station @ Appleby | 37 | $62.00 |
| Caledonia | 13 | $24.00 |
| Cambridge | 46 | $69.00 |
| Chatham | 222 | $333.00 |
| Dunnville | 52 | $78.00 |
| Fort Erie | 112 | $169.00 |
| Grimsby | 46 | $69.00 |
| Guelph | 70 | $105.00 |
| Jordon | 65 | $82.00 |
| Kingston | 345 | $520.00 |
| Kitchener | 67 | $100.00 |
| London | 121 | $181.00 |
| Mississauga | 66 | $100.00 |
| Montreal | 627 | $920.00 |
| Mount Hope (Super 8) | 2 | $10.00 |
| Niagara Falls, ON | 89 | $134.00 |
| Niagara Falls, NY | 94 | $141.00 |
| Niagara on the Lake | 94 | $140.00 |
| Oakville | 52 | $77.00 |
| Ottawa | 540 | $805.00 |
| Paris | 45 | $68.00 |
| Peterborough | 223 | $332.00 |
| Port Dover | 55 | $81.00 |
| Sault Ste Marie | 755 | $1,120.00 |
| Smithville | 41 | $62.00 |
| St. Catharines | 72 | $108.00 |
| Stratford | 107 | $108.00 |
| Stoney Creek | 35 | $54.00 |
| Sudbury | 455 | $682.00 |
| Toronto (Airport) | 85 | $122.00 |
| Toronto (Downtown) | 87 | $130.00 |
| Waterloo | 74 | $110.00 |
| Welland | 75 | $112.00 |
| Windsor | 305 | $454.00 |
| Woodstock | 76 | $113.00 |