Real Life, Real People
At Hamilton Cab we provide more than just a transportation service. We also assist our local police department in creating a safer community for all of us. When the police require information regarding the use of our taxicabs or cab drivers witnessing events we help out in any way we can. Over the years our state of the art technology has helped police to solve very serious criminal cases.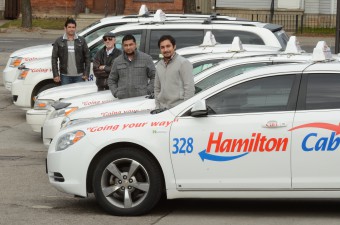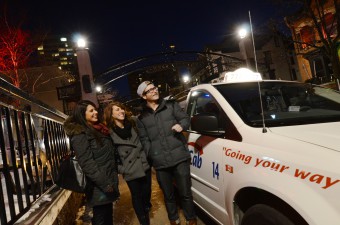 Our Stories
In almost every job there is something that inspires you. Our Stories That Drive Us Page was created to share with the community the stories about our daily motivation and the positive customer experiences that keep us on the road 365 days a year!
Happy Anniversary Hamilton Cab!
Hamilton ON – Tuesday, October 1st 2013 Hamilton Cab celebrates ten years with a great community, staff and clients! They took to the streets of Hamilton in 2003 with 135 cabs and have since grown to a fleet of well over 200. With many struggles, highlights and accomplishments along the way they are very happy to be where they are today.
Hamilton Cab Highlights
Bought Yellow Cab in 2006
In October of 2006 they merged Yellow with Hamilton Cab 185 cabs in total
Started GPS Dispatch in October 2007
Received Readers Choice awards in 2009, 2010, 2011, 2012
Received Platinum Award from Hamilton Community News in 2012
Jagtar Singh Chahal CEO & Chairman received Queen's Jubilee Award in 2012
First Pink Cab for Cancer Awareness October 2012
January 2013 they faced a 200-300% increase in taxi insurance, Hamilton Cab operators held their ground, and continue to service the community
Since October 2003 that has been an over 42% increase in the number of dispatched trips
As much today, on their ten year anniversary, as when the business started in 2003 Hamilton Cab Chairman and CEO Jagtar Singh Chahal remains committed to ensuring Hamilton Cab is more than just your average taxi cab company. He says that out of all of the company's accomplishments the closest to their heart would have to be the pink cab for cancer awareness.
"We think that it is important to reach out into the community and bring awareness to this great cause," says Chahal. "Through our Pink Community Cab we hope to remind everyone what a real and growing problem breast cancer is and encourage people to make choices that could reduce their risk of cancer and increase the chances of detecting it early."
Hamilton Cab is expected to add two more pink cars to their fleet as early as this October.
Many people walk, jog or run for a great cause, but at Hamilton Cab they choose to drive – because that's what they do best!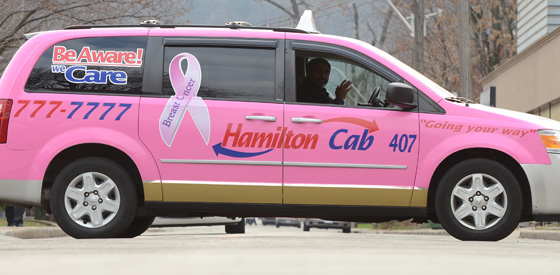 For more information on Hamilton Cab, its multitude of services including Airport Transportation, courier services, and much more, contact:
Jagtar Singh Chahal, Chairman & CEO; jagtar@hamiltoncab.com; 905-522-0748 ext. 2235
Hamilton Cab's Commitment to the Community Continues
Hamilton Cab Chairman and CEO, Jagtar Singh Chahal, is committed to ensuring that Hamilton Cab is more than just an average taxi cab company. A team of at over 25 Hamilton Cab staff and drivers participated this past Saturday in the Juravinski Cancer Centre Annual Bright Run, in support of Breast Cancer Research. Click here to read more! [PDF]
The Fare of a Lifetime  - Arnold Schwarzenegger and His Ride with Hamilton Cab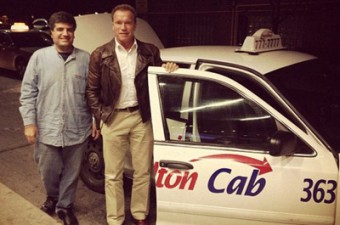 "I was so surprised to see Arnold coming to my cab," said Farhat, an east Mountain resident. "I welcomed him to Hamilton with a big, big smile and we shook hands. I told him, 'I'm proud to drive you.'"
Caught in the Act – Bank Robber busted thanks to GPS system
In 2010, an individual robbed Scotiabank in the University Plaza. The individual took Hamilton Cab for a ride and one of our drivers picked him up. The police contacted us and informed our dispatch staff with the description of this robber. We sent a code message to all drivers regarding the incident and our staff soon learned which cab the robber was in. Our customer service representative Lisa called the cab driver on his cell phone and kept him busy by using special code words on unrelated topics. Our computerized GPS dispatch system allows us to find the location of every cab, and our dispatcher Bill was able to use this to monitor the location of the cab and informed police with this information. Our staff did not put the life of our cab driver in danger at any point of this incident and they were able to prevent the robber from discovering what was going on. When the robber tried to get out at his location on Emerald and Main Street, the police arrested him and collected the stolen money.
This event required teamwork from our customer service representative Lisa, dispatcher Bill, the cab driver, and the police. With all of this combined effort, we were able to help keep a criminal off Hamilton's streets.
Testimonials
Hamilton Cab has been on the streets of the Greater Hamilton Area for over 10 years now and throughout the years, Hamilton Cab, a company as a whole have met some incredible people, heard countless inspirational stories, and have created memorable bonds with our loyal customers.
I just wanted to take a moment to tell you about your drivers.

I have been using Hamilton Cab over a period of three years. Your drivers are not only friendly and courteous but assist with packages, will make sure a single female like me makes it in the front door and I have seen them assisting seniors getting into a vehicle with walkers and canes – opening car doors and ensuring they are comfortable.

I have on occasion been a passenger of "the other guys" in town but they do not provide the level of service that you do.

Many compliments to all of the dispatchers, drivers and crew for providing excellent service!
-Susan
I just wanted to thank you for the excellent work Sohail Yasin did on Monday evening to drive two of us in terrible conditions with lots of non-functioning traffic lights from the Hamilton Airport to my sister's house near downtown Toronto. He was patient and very safe and got us where we needed to be when many others were stranded. He is a credit to your company.
-Jeff Kotkin
On July 28th my daughter and her new husband were picked up at the Renaissance Banquet Hall, at Barton and Nash, in Hamilton. Along with other items from their wedding, they had an 11″x 14″ photo of themselves that the guests at the wedding had signed.

When they got to their apartment they realized that they didn't have the photo and that it was probably still in the trunk of the van that had picked them up. She checked with her superintendent, who had just done a walk about of the building, and nothing was left downstairs.

There are signatures from guests from England and various out-of-town cities, it meant a lot to us. After speaking to a couple people at Hamilton Cab, they were finally able to track it down!

I would like to express my deep appreciation for this being found. My daughter has already picked it up and she is over the moon. Your driver said if anyone could find it you could, cudos to Hamilton Cab for finding this!
-Susan Armellini
I hope you know that your staff and drivers are wonderful!

If not for the persistence of the dispatch staff today, and the driver (111) who came from many kms to drive me to a much-needed medical appt, I'd be super ill as we speak!

Thankfully they went above and BEYOND to make sure I got to get my meds today!

Thanks for everything STAFF and better (*snow-free) days ahead!
-Trina Cameron
Just an FYI regarding cab #199 – one of the teachers at Lisgar has said this drive has been really good with their students. He's really nice and understanding. The teacher has also said that the cabs have been pretty consistent in their arrivals and departures.

Thank you.
-Allyson Bentley
Hamilton-Wentworth Student Transportation Service
On Wednesday June 6th, I was injured in the parking lot of the Metro store on Governors Rd. in Dundas. One of the drivers came over to assist me. His cab number I believe is 215. I just want to say a big thank you to him and to Hamilton Cab for having such caring people on staff.
-Maya MacLennan
I mean to write this letter weeks ago but health problems held me up. My husband and myself have been using your cabs for a very long times and have found your drivers very helpful and kind. I lost my wallet one day when I went to the doctors. I was very, very upset. Is is the first time I ever did that. I am 87 years old. Your drivers brought it back to me the very same day. I was so very grateful. He didn't even take any money from me. I found out from another driver who he was and I wanted to let you know – he is a day driver. Cab #348.
-Nara Raymen