Welcome to Hamilton Cab
At Hamilton Cab we're more than just cabs. We're friends. We have been serving the Greater Hamilton Area with great transportation service for over 35 years. With professional and friendly reservation operators and a fleet of over 200 cabs we're available 24 hours a day, 7 days a week. Our cabs are always clean and our friendly drivers are ready and waiting to get you to any destination safe and on time! Call Hamilton Cab today!
Hamilton Cab's Commitment to the Community Continues
Hamilton Cab Chairman and CEO, Jagtar Singh Chahal, is committed to ensuring that Hamilton Cab is more than just an average taxi cab company. A team of at over 25 Hamilton Cab staff and drivers participated this past Saturday in the Juravinski Cancer Centre Annual Bright Run, in support of Breast Cancer Research. Click here to read more! [PDF]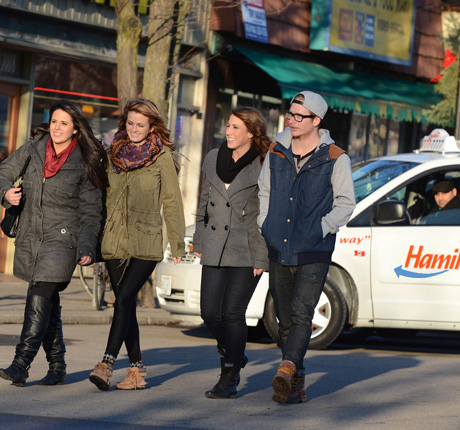 24 Hour Service
Hamilton Cab is one of the largest taxi companies in the Greater Hamilton Area. With a fleet of over 200 newer model vehicles, we are proud to supply superior taxi transportation services 24 hours a day, 365 days a year.

Computerized GPS Dispatch Service
At Hamilton Cab all of our taxis are equipped with a computerized GPS Net Dispatch system which enables us to provide a superior level of service for no hassle transportation, no matter where you're going…or when!

Van Service
At Hamilton Cab we do not believe in charging extra for our van taxi service. With over 100 vans in our fleet, we can always take care of you and your group to ensure you all get where you're going…together.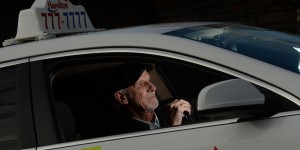 All Cars and Drivers are 100% Insured
All of our Hamilton Cab drivers receive comprehensive training to provide excellent customer service. They must also complete a thorough examination to ensure that they are the safest taxi drivers on the road. We are committed to providing our patrons with the highest standard of customer service and safety when they travel in any of our cabs.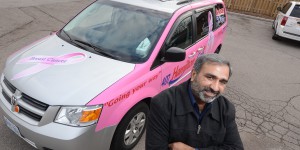 Be Aware We Care
We are proud to be an active member of the Greater Hamilton Area. If you would like Hamilton Cab to be apart of your event, contact us today.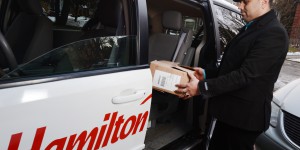 Courier Services
Hamilton Cab offers a door-to-door parcel pick up and delivery service. You can use our parcel service for personal or business deliveries.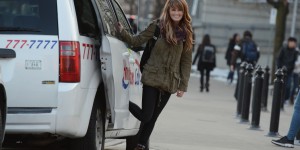 It's Always a Free Call
Looking to save some money? Just dial our toll free number 1-877-525-2500 from any payphone in Hamilton and surrounding areas.