Comfortable travel
at a low cost!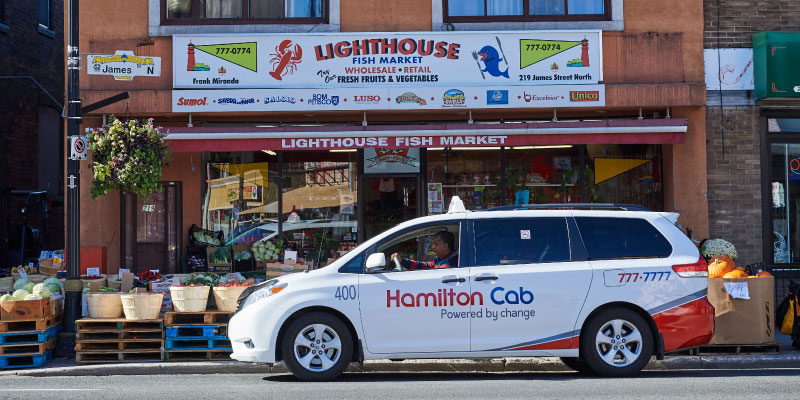 Standard Rates
At Hamilton Cab, we charge a standard taxi metered rate, established by the City of Hamilton, of $4.90 for the first 72 meters, $1.80/km 10 cents for each additional 55.5 meters, and 10 cents for waiting time while under engagement for each 11 seconds.
Plus, a 10% discount is offered to seniors aged 65+ on each full dollar spent. And we have over 50 taxi vans in our fleet.
Please note: There is a $10.00 surcharge when a van is requested.
| Destination | Distance (km) from airport | Fare** |
| --- | --- | --- |
| Hamilton (Downtown) | 19 | $38.00 |
| Hamilton (Go Stn.) | 15 | $33.00 |
| Hamilton (McMaster) | 20 | $38.00 |
| Hamilton (Sheraton) | 20 | $38.00 |
| Hamilton (Courtyard) | 9 | $21.00 |
| Hamilton (Visitors Inn) | 20 | $38.00 |
| Hamilton (Holiday Inn) | 24 | $48.00 |
| Hamilton (Days Inn) | 14 | $33.00 |
| Hamilton (Carmen's C) | 16 | $32.00 |
| Aldershot (Go Stn.) | 27 | $50.00 |
| Beamsville | 54 | $89.00 |
| Binbrook | 18 | $38.00 |
| Brampton | 87 | $143.00 |
| Brantford | 33 | $55.00 |
| Buffalo | 118 | $195.00 |
| Buffalo Airport | 127 | $209.00 |
| Burlington – Go Station @ Brant | 30 | $55.00 |
| Burlington – Go Station @ Appleby | 37 | $66.00 |
| Caledonia | 13 | $27.00 |
| Cambridge | 46 | $76.00 |
| Chatham | 222 | $366.00 |
| Dunnville | 52 | $86.00 |
| Fort Erie | 112 | $185.00 |
| Grimsby | 46 | $76.00 |
| Guelph | 70 | $115.00 |
| Jordon | 65 | $107.00 |
| Kingston | 345 | $570.00 |
| Kitchener | 67 | $110.00 |
| London | 121 | $200.00 |
| Mississauga | 66 | $109.00 |
| Montreal | 627 | $1,035.00 |
| Mount Hope (Super 8) | 2 | $15.00 |
| Niagara Falls, ON | 89 | $147.00 |
| Niagara Falls, NY | 94 | $155.00 |
| Niagara on the Lake | 94 | $155.00 |
| Oakville | 52 | $86.00 |
| Ottawa | 540 | $892.00 |
| Paris | 45 | $75.00 |
| Peterborough | 223 | $368.00 |
| Port Dover | 55 | $91.00 |
| Sault Ste Marie | 755 | $1,245.00 |
| Smithville | 41 | $68.00 |
| St. Catharines | 72 | $119.00 |
| Stratford | 107 | $177.00 |
| Stoney Creek | 35 | $62.00 |
| Sudbury | 455 | $750.00 |
| Toronto (Airport) | 85 | $140.00 |
| Toronto (Downtown) | 87 | $144.00 |
| Waterloo | 74 | $122.00 |
| Welland | 75 | $124.00 |
| Windsor | 305 | $627.00 |
| Woodstock | 76 | $126.00 |
**Subject to change
Note: 10% app discount is on the distance and time